The eighth Mekong Delta Economic Cooperation Forum (MDEC) kicked off in Soc Trang province on November 5, attracting the attention from ministries, sectors, localities, businesses and international investors and organisations.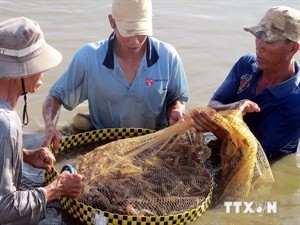 Farmers harvest shrimp in Vinh Chau township, Soc Trang province (Photo: VNA)
Addressing the opening ceremony, Deputy Prime Minister Vu Van Ninh affirmed that the forum, held successfully for seven times, proposed many helpful mechanisms, policies and initiatives, and fostered collaboration between localities in the region, between the Mekong Delta and Ho Chi Minh City, other regions as well as the business community nationwide.
It has contributed to boosting the region's socio-economic development and improving locals' living conditions, he added.
With the focus on restructuring the agriculture and building new-style rural areas in the Mekong Delta, this year's three-day forum will help facilitate the implementation of the Party and State's policies on agriculture, rural areas and restructuring.
Hailing the importance of the Mekong Delta, the Deputy PM said that the region holds a strategic position in terms of socio-economic development, security and national defence.
With its great potential in land, water surface and human resources, the region contributes 20 percent to the country's gross domestic product (GDP). It produces over 50 percent of the total food output, and provides 90 percent of the country's exported rice, 70 percent of exported fruits and 60 percent of exported seafood.
However, the region is facing numerous challenges, including climate change impact, unsustainable economic growth, low infrastructure, limited high-quality human resources and high rate of households living under or near the poverty line.
Therefore, the forum is organised to seek measures to address the difficulties, and create the most favourable conditions for both domestic and international investors to run business in the region, Ninh added.
At the opening ceremony, the organising board honoured organisations and enterprises which have contributions to the region's social welfare fund with a total amount of VND 430 billion (US$20.21 million).
Governor of the State Bank Nguyen Van Binh also took the occasion to present VND 50 billion to Soc Trang province to help build a VND 120 billion general hospital in Tran De district. Its construction is scheduled to begin on November 6.