Farmers in the Mekong Delta has entered the harvest season of winter spring rice--the main crop every year but rice prices have plummeted, concerning many people specially when Tet has been coming.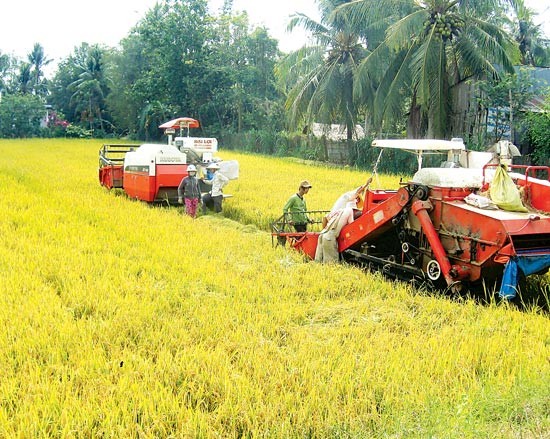 Farmers harvest winter spring rice crop in Vinh Long Province (Photo: SGGP)
Rice prices have slid VND600-700 a kilogram over autumn winter crop and VND400-500 a kilogram against the same period last year.
A kilogram of fresh IR50504 now fetches about VND4,300, high quality rice is paid about VND4,500, and fragrant rice is priced VND4,700 a kilogram.
Nguyen Van Lam from Tan Hong District, Dong Thap Province said that the rice prices had dropped to a three year low, barely profiting them. Despite of low prices, traders have still not purchased worrying rice growers.
"We look to winter spring rice crop to pay debts and spend on Tet holidays. Price fall has put many families in difficulties now," said Nguyen Van Nam from Tra On District, Vinh Long province.
Husked rice prices have sharply reduced too. Businesses have purchased slowly because they have not been able to clear their stock.
Deputy Head of Gentraco Company Tran Thanh Van said that prices of material rice to make 5 and 25 percent broken types had dropped VND700-900 a kilogram over last yearend to VND6,250 and VND6,100 respectively.
Vietnam shipped over 169,358 tons in January under FOB (free on board) term to earn US$77.32 million, rather lower than previous months.
Export prices remained low at US$376 per ton of five percent broken rice and US$349 for the 25 percent broken. They were US$401 and US$380 a ton respectively a year ago.
Businesses predicted that rice exports would continue facing with a lot of difficulties.
Dong Thap province People's Committee has sent proposal to the Prime Ministry asking him to permit the province to begin pilot stockpiling purchase for the winter spring crop with a total volume of 350,000 tons.
Farmers have sold rice at breakeven or loss prices affecting the life of over 156,000 households in the province.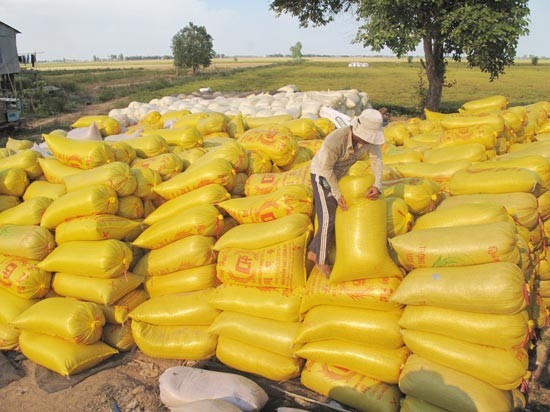 Vinh Long farmers concern about rice price plunge (Photo: SGGP)
Rice growing area has been increasing for the last few years but farmers' income has been unstable.
Last year the Mekong Delta's rice output reached 25 million tons, up 0.5 million tons over the previous year. However, export output was behind expectations for 7 million tons to reach only 6.32 million tons worth US$2.79 billion in FOB term, the lowest for the last four years.
Compared to 2013, rice export reduced 300,000 tons in volume and US$100 million in value last year.
According to Head of the Mekong Delta Rice Research Institute Dr. Le Van Banh, import countries have known that the Mekong Delta is entering harvest season, hence they have not rushed to order and waited for peak reaping time to offer lower prices. In the meantime, local businesses have not found out consumption sources to step up purchase.
Mr. Banh proposed the Government to have long-term rice stockpiling policy which might extend month after month to deal with unstable rice conditions.
In a business trip to the Mekong Delta recently Minister of Agriculture and Rural Development Cao Duc Phat said that rice industry was focusing on restructuring for sustainable development, which aims at high quality, competitiveness and effectiveness and better income for farmers.