After several days out at sea, fishermen in the Mekong delta provinces of Ca Mau and Bac Lieu have returned with huge hauls of shrimps and fish.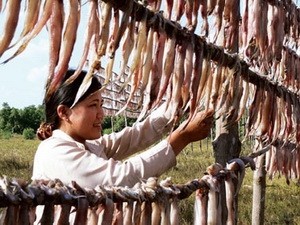 A woman drying khoai fish (Source: baoanhdatmui.vn)
Fishing trips since the beginning of the year have resulted in high profits in Bac Lieu Province. A single fishing trip of eight or 10 days yields a net profit of VND30-40 million.
Shrimp fishing boats spend about 60-75 days out at sea and the average income per trip yields VND600-800 million.
Over 120 boats have arrived at Song Doc and Khanh Hoi ports in Ca Mau Province, each bringing about a tonne of khoai fish (bummalo).
Several fishermen are preparing to head out to sea as this is peak khoai fish season.
A kilogram of khoai fish is currently fetching a high rate of VND60,000, but supply still cannot meet demand in Ca Mau Province.