Mekong Delta authorities are gearing up to tackle the rising floodwaters from the Mekong River by fortifying their dikes, pumping water out of rice fields and reinforcing rescue teams to face any eventuality.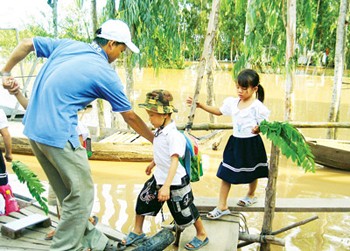 Children in An Giang Province are commuted to schools as floodwaters continue to rise in the Mekong Delta (Photo: SGGP)
The People's Committee of Dong Thap Province and the Department of Agriculture and Rural Development have reviewed measures to protect the autumn-winter rice crop in districts located in the north of the province, particularly those in the upper reaches of the Mekong River.
District authorities with support of the general public have already reinforced dikes and installed pumping stations in strategic locations to brace any eventuality.
Tan Hong District has focused on strengthening its dike system so as to prevent flooding of their rice fields.
Dong Thap plans to seed over 99,000 hectares of rice, 38,000 hectares more than last year. However, many of the cultivable areas are in high risk of flooding due to its fragile dike system.
According to the Hydro Meteorological Centre in the province, floodwaters are surging rapidly and are already higher than threat levels, as compared to the same period last year.
Farmers in Hon Dat and Kien Luong Districts and parts of Tan Hiep District and Rach Gia town in Kien Giang Province are well-placed to cope with flooding, forecast this year to be the highest in a decade.
Kien Luong, the most vulnerable of all areas, has already completed harvesting over 13,000 hectares of summer-autumn rice crops, before the peak flood season arrives in the second half of September. The district has also opened swimming training courses for children.
The rescue force has already inducted over 200 people, ten motorboats, some row-boats and 1,000 lifebuoys. In addition, 1,800 boats belonging to the local people have also been mobilized to help in any rescue operations. Essential commodities have been stockpiled for three to seven days in case of an emergency.
Districts in An Giang Province have pumped floodwaters out of the rice fields as floodwater levels rose to dangerous heights, threatening over 135,000 hectares of rice crops and vegetables.
Rescue forces including the police, army officials and the Red Cross are on high alert to tackle any worst case scenarios.