Provinces in the Mekong Delta in southern Viet Nam have geared up for annual flooding by the Mekong River.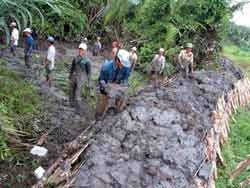 Local people consolidate an embankment. (Photo: SGGP)
Dong Thap Province has consolidated more than 78,500 kilometers of embankment to protect people and crops. A total of 175 safe houses are available for children, able to shelter more than 3,500 kids. Swimming courses have been conducted for over 4,500 children.
The province has set up 475 rescue teams with almost 3,000 rescue workers.
Provincial farmers have harvested more than 90% of paddy fields and expect to finish all by mid-August.
In An Giang Province, upstream areas have set action plans to fight flooding and conduct rescue work immediately.
In addition, the delta residents have prepared to catch fish and other aqua-animals during the flooding period, together with other aqua-culture activities.
In the Tuesday morning, the Mekong River's level was measured at 2.71 m in Chau Doc Town and 2.07 m in Tan Chau Town. The water levels in upstream areas are forecast to increase fast in the next seven days.
The Mekong Delta committee for flood fighting has deployed its members to prepare for their tasks.