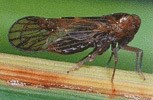 "Ray nau" insect (scientific name is

Nivaparvata lugens)
The "Ray nau" (a brown backed rice plant hopper) epidemic which ravaged 30,000 hectares of paddy fields in the Mekong Delta has initially been stamped out. There are only infected 35,000 hectares left with the density of 3,000-5,000 of those plant-eating insects per square meter.
Thanks to the farmers' experience in dealing with these insects, the epidemic was stopped, said Director of the Mekong Delta Rice Institute Bui Chi Buu.
The expansion of Jasmine rice and glutinous rice areas is seen as one of the main reasons for this epidemic. Therefore, the provinces of Long An, An Giang and Kien Giang should control these kinds of rice to avoid a widespread epidemic in the coming time, Mr.Buu added.

Related articles:

Mekong Delta Takes Steps to Prevent "Ray Nau" Epidemic