Many schools will be built in the 2008-09 school in the Mekong Delta as a result of contributions by people from all classes in the area.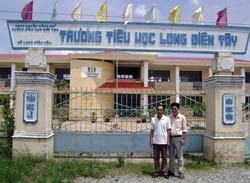 A primary school built on the land donated by Mr. Nguyen Van Cong in Bac Lieu province 
Land donation "movement"
Mr. Thach Son in Bong Ven hamlet, Nhi Truong commune, Cau Ngang district, Tra Vinh province, has donated 2,370 square meters of land for building a new school. Thirty-one years ago, he offered 1,000 square meters of his land.
So far, the province has received a total of 94,000 square meters of land donated by 100 individuals and 49 organizations to build 75 schools in rural areas.
In Ca Mau province, many people contributed to the government's policy on educational socialization. For example, Mr. Doan Quang Minh, an war invalid in Song Doc town, Cai Nuoc district, has twice donated land worth more than VND2 billion (US$121,000) for the building of a primary school and a junior high school.
Mr. Nguyen Van Lap, of Phu Tan district, and his relatives offered 10,000 square meters to build Nguyen Thi Minh Khai High School. Mrs. Nguyen Thi Ngoc Lien donated 7,000 square meters to set up Phu Tan junior high school.
In U Minh district, Mr. Cao Thuan Phong gave away 1,200 square meters of land to construct Khanh Lan High School on the road leading to Khanh Hoi estuary, facilitating travel to school by students residing in nearby communes.
Mr. Huynh Tan Phieu, a teacher at Khanh Binh Tay Bac primary school, has given 6,000 square meters of farm land to build a high school with the same name.
In Bac Lieu province, Mr. Nguyen Van Duc, of Dong Hai district, offered 8,000 square meters and Mr. Nguyen Van Cong, of Vinh Dien hamlet, Long Dien Tay commune, donated 5,800 square meters of land for new schools.
Efforts to help students
Mr. Pham Ngoc Trac, the president of the Study Encouragement Association of Vinh Thanh district, Can Tho province, said the district's social welfare bank has provided poor students with loans worth VND6.2 billion (US$380,000) at a rate of 0.5 percent/month. 
His association has prepared notebooks and studying implements worth tens of millions dong to help students in the new school year.
General Le Hong Anh, Minister of Public Security, recently paid a visit to the district and presented 100 bicycles to poor but gifted students.
During the last school year, the province's Study Encouragement Association spent over VND5.2 billion (US$314,000) to support 30,000 poor students who had achieved good performances at school, said Mr. Ho Viet Hiep, the director of An Giang province's Department of Education and Training.
The province has set up some 100 nurseries in the flooding season in An Phu, Tan Chau, Phu Tan, and Cho Moi districts. Each nursery is allocated about VND65 million (US$3,900), which will be spent on food for the students.
To help the province, Ho Chi Minh City will provide scholarships worth up to VND1 million (US$60) each for poor but gifted students in the province.