Residents in the upper reaches of the Southern Mekong Delta Provinces of An Giang and Dong Thap await eagerly for the coming flood season, excitedly preparing all essential equipment required while also hurriedly reinforcing their irrigation systems and embankments to protect thousands of hectares of rice fields and orchards.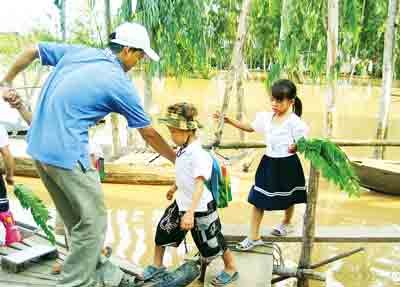 An Giang authorities assign people to take children safely to and fro from schools (Photo: SGGP)
Huynh Thanh Phong, Head of the An Giang Agricultural Office, stated that a decade ago people clamored to save themselves and their crops from harms way, but nowadays everyone concentrates on taking full advantage of the flood season.
Experts have advised farmers to grow and harvest rice early in the highly susceptible 9,000 hectare area to avoid crop loss, while the 3,571 hectare rice fields in the west, which are better shielded from flood waters, have completed 60 percent sowing.
The district has just finished reinforcing its embankment system and 85 sluice gates, installed 125 water pumps and is planning to upgrade the 957 highway, to prevent flooding from the Binh Di River and protect their crops in the Khanh An, Khanh Binh, Quoc Thai, Da Phuoc and Phuoc Hung communes.
According to Mai Van Lap, Deputy Head of the Water Resource Office under the An Giang Flood and Storm Prevention Committee, the province has widened its rice area this year to 135,000 hectares.
The Committee, along with the local army, border guards and the Red Cross, is hurriedly training members for rescue operations in the five critical districts of An Phu, Tan Chau, Phu Tan, Chau Thanh and Chau Phu and some 52 possible erosion areas.
Local government in Dong Thap Province is organizing 336 child-care groups for nearly 6,000 children from low-lying areas and 462 rescue teams with 4,267 members, including 247 teams for round-the-clock alert in critical areas with more than 1,600 members.
Vice Chairman of the Dong Thap People's Committee Nguyen Van Duong has instructed concerned authorities to relocate 2,690 families from danger zones to flood safe residential camps.
Duong Nghia Quoc, Director of the Dong Thap Department of Agriculture and Rural Development, says that the entire province has completed fortifying the dyke system to protect more than 99,000 hectares of rice crop and 25,000 hectares of orchard area.
The upstream district of Hong Ngu spent more than VND12 billion (approx. US$582,500) to build a new dyke system and pumping station as well as reinforcing all its sluice gates covering 4,000 hectares of rice crops in Thuong Thoi Tien and Thuong Phuoc 2 communes.
According to experts, the Mekong Delta can expect a good flood season this year.
On August 10, the Tien River in Tan Chau District of An Giang Province was at 3m level while it was 2.28m in the Hau River in Chau Doc District, 1.8m higher than last year. Water levels have increased by 5cm on an average per day.
Vo Thanh, Head of the An Giang Center for Hydro Meteorological Forecasting, announced that due to the recent two storms, the summer monsoon will bring in heavy rains in upstream areas, creating higher water levels this year.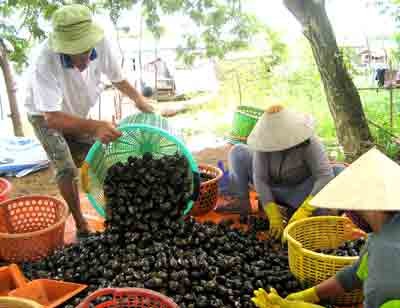 People collecting snails to supply to big cities (Photo: SGGP)
It is forecast that in the last two weeks of October, the flood waters will peak in the Mekong Delta to as high as the third warning level of 4.5m since water levels in the upstream area of Laos are higher than 20m at the moment.
This is a fantastic flood season for everyone, with enough water to irrigate all fields, a surplus of silt for the next rice crops and more aqua-produce.
Residents in An Giang and Dong Thap provinces as well as Can Tho City are busy preparing thousands of hectares to raise scampis, frogs, crabs, mullets, perches, etc.
Inside the closed dyke area of Khanh An, Khanh Binh, Vinh Truong communes in An Phu District, people are harvesting vegetables on 1,500 hectares for distributing to neighboring areas, Ho Chi Minh City and also for  export to Cambodia before the flood waters arrive.
Farmer Nguyen Van Hai of An Khanh Hamlet in Khanh An Commune said he could earn around VND60 million (about $2,910) after picking 5 tons of bitter melon from his 2-acre field.
Similarly, Nguyen Huu Bay, a 20-year old experienced fisherman, confirmed that with the abundant quantity of fish this year, he was able to collect around 150-200kg of cirrhinus molitorella fish, twice as much as last year. Even at a high price of VND25,000-30,000 per kg ($1.2-1.5), he does not have enough to sell.
More than 50 employees on 8 snail farms in Khanh An commune are working hard to supply around 30 tons to Ho Chi Minh City, Can Tho and Hanoi. The average wage here is VND100,000-150,000 per day ($4.9-7.3), which is relatively high.
In upstream areas of Dong Thap Province, residents are also busy collecting various types of aqua-products like snakes, perches and especially cirrhinus molitorella fish.