The Southwest Region Steering Committee has drawn up a plan to develop an additional 10,000ha of high-quality fruits in the Cuu Long (Mekong) Delta by the end of this year.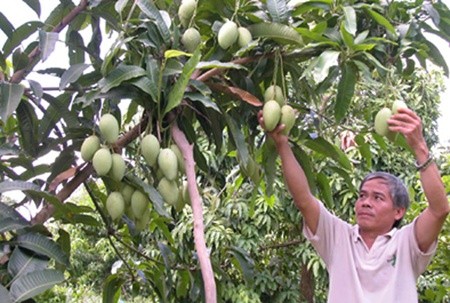 Hoa Loc mango is a specialty fruit in the Mekong Delta. The delta has more than 300,000ha of fruit gardensincluding over 50,000ha for specialty fruit. Under a plan to develop the southern region, the delta will dedicate 185,100ha to growing 12 speciality fruits by 2020. — VNA/VNS Photo Nguyen Van Tri
Tran Huu Hiep, head of the committee's Economic Division, said the fruit areas would be located in the provinces of Vinh Long, Tien Giang, Ben Tre, Dong Thap, Soc Trang, Tra Vinh and Hau Giang, and Can Tho City.
The areas will grow the delta's specialty fruits such as green-peel and pink-flesh grapefruit, Nam Roi grapefruit, king orange, Hoa Loc mango, Chin Hoa durian, and Lo Ren milk apple, he said.
Each province will choose to plant one to three specialty fruits.
About 90 per cent of fruits in the delta, the country's largest fruit cultivation area, are sold domestically, according to the Southern Fruit Research Institute.
Improving quality
Hundreds of establishments that produce plant seedlings in Ben Tre, Vinh Long, Tien Giang and Can Tho have been producing disease-free fruit seedlings to reduce the prolonged shortage of quality seedlings in the Delta, according to the Southwest Region Steering Committee.
In recent years, the delta's provinces have also encouraged farmers to set up co-operatives to grow fruit to reduce small-scale cultivation, improve quality and reduce production costs.
In Ben Tre, Tien Giang and Vinh Long provinces, hundreds of farmers have co-operated to grow green-peel and pink-flesh grapefruits, Hoa Loc mango and king orange.
Local agriculture officials have provided training courses on integrated pest-management programmes on citrus fruits for thousands of farmers in the zoned areas for fruit cultivation.
Farmers have also been instructed to grow fruits in accordance with global and Vietnamese good agricultural practises.
The delta has more than 300,000ha of fruits, according to the Southern Fruit Research Institute. Of the figure, more than 60,000ha is planted with speciality fruit.
According to the Ministry of Agriculture and Rural Development's plan of developing fruits in the southern region in the 2013-2020 period, the delta will have a total of 185,100ha devoted for growing 12 speciality fruits by 2020.
The 12 fruits are dragonfruit, mango, rambutan, durian, milk apple, grapefruit, longan, banana, pine apple, orange, sour sop and mandarin.
Of the 185,100ha, Tien Giang Province, which is the delta's largest fruit cultivation area, will account for 51,500ha.
Besides developing large areas specialised for fruit cultivation, Tien Giang has also provided advanced farming techniques for more farmers and improved the quality of fruit seedlings to increase income for farmers.
The province's fruit farmers earn an income of VND100-200 million (US$4,700 – 9,500) per ha a year.