Water levels in the Mekong Delta have been rising over the past two days and will rise to higher levels, according to the National Hydro-Meteorological Forecasting Center.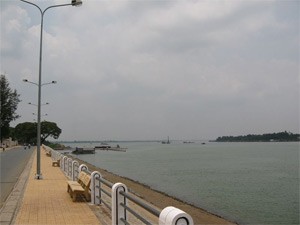 A section of the Tien River in Tan Chau
The water level on the Tien River in Tan Chau was 3.53m, 0.07m lower than warning level II on Saturday.
On the Hau River, the water level was 2.83m in Chau Doc, 0.17 m less than warning level II. In Long Xuyen the level was 1.98m and in Can Tho it was 1.58m, both being 0.02m lower than warning level II.   
A rise of 0.15m above the warning level I was seen on the Vam Co Tay River in Moc Hoa, where the level reached 0.95m on the same day.
By Aug. 28. the water level in Tan Chau is expected to rise to the warning level II (3.6m), and the level in Chau Doc will be 2.9m, 0.10m lower than the warning level II, the center forecast.
Moc Hoa may see its water level surged to 1.05m, 0.25m above the warming level I. In the Dong Thap Muoi area and Long Xuyen Quadrangle, the water levels will fluctuate between the warning levels I and II, said the center.
"To date, the last 98 households in the areas hit by floods and landslide have been evacuated to safe places," said Dang Van Ne, the head of the Agriculture and Rural Development Department of Hong Ngu District, Dong Thap province. "Every commune has set up two or three rescue teams to prepare for emergency cases," he said.
In the case of a storm, there will be over 27,000 households with 129,000 people in Can Tho province who need to be evacuated, according to the Can Tho Irrigation Sub-Department. These locals will be moved to 2,100 buildings, 90 offices and about 106 schools for safety, according to the agency.