A Memorial of Vietnamese Heroic Mothers will be built in the central province of Quang Tri to show the country's deep gratitude towards their contribution to the national liberation struggle.

The Viet Nam Women's Union supports the appeal to build a Memorial of Mothers by the Voice of Viet Nam Radio and Quang Nam People's Committee by launching a contribution campaign in Ha Noi.
The idea of the memorial was inspired by the life of mother Nguyen Thi Thu, whose nine sons, one son-in-law and one grandchild died for the national liberation, in Dien Thang commune, Dien Ban district, the central province of Quang Nam. She symbolizes Vietnamese women's sacrifice during the War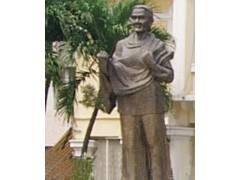 A statue of Viet Nam mother in Southern Women's Museum

This is a cultural work of national stature. It plays an important role in cultivating patriotism in young generations.


Vietnamese Heroic Mothers

War is over but it left enduring pain in which women, especially mothers often suffered the most. They lost their dear children, husbands and grandchildren who sacrificed their lives for the national liberation struggle.
Though Viet Nam has achieved its freedom, and the country is dramatically changing for the better, no one should ever forget sadness and pain remain in those mothers' hearts. Some mothers have lived to witness the changes of the country; others passed away taking with them all the wounds unhealed
The Socialist Republic Viet Nam issued on August 29, 1994 a decree to grant them honorable awards of "Viet Nam Heroic Mother".
No.

Full name

Residence

The number of husband and children died for the national  struggle

Herself

1

Nguyen Thi Thu

Đien Thang -  Dien Ban - Quang Nam Đa Nang

Nine sons and two grandchildren are martyrs.

 

2

Pham Thi Ngu

Ham Tien - Ham Thuan - Binh Thuan

Eight sons are martyrs.

Hero of the people's armed forces

 

3

Tran Thi Mit

Hai Phu - Hai Lang - Quang Tri

Nine sons are martyrs.

 

4

Nguyen Thi Ranh

 

Eight sons are martyrs.

Hero of the people's armed forces

 

5

Le Thi Tu

Thanh Quyt - Đien Thang - Đien Ban - Quang Nam Đa Nang

Nine sons are martyrs.

 

6

Pham Thi Khanh

Hon Đat - Kien Giang

Seven sons are martyrs.

 

7

Van Thi Thua

Duy Xuyen - Quang Nam Đa Nang

Husband and four sons are martyrs.

Hero of the people's armed forces

 

8

Mother: Ho Thi Hanh
Daughter: Tran Thi Theu

Hung Hoa - Phien Cau - Tra Vinh

Ten sons are martyrs.

 

9

Nguyen Thi Duong
Nguyen Thi Lanh

12 Ly Nam Đe - Ha Noi

- Five sons are martyrs.

- Husband is martyr.

 

10

Three sisters:

Bui Thi Hai
Bui  Thi Di
Bui Thi Sau

Ham Chinh - Ham Thuan - Binh Thuan

-Husband and four sons are martyrs.

-Three sons are martyrs.

-Four sons are martyrs.

Three sisters are Heros of the people's armed forces