Seven miners and one rescuer are dead after a methane gas explosion in a coal mine in northern Quang Ninh Province on Monday.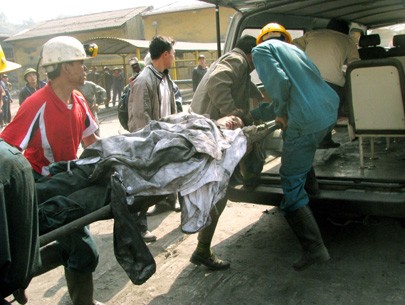 Rescuers rush victims  to hospitals(Photo :TTO)
About 100 miners were working in a section of the Khe Cham Coal Company about 160 meters underground when the explosion occurred. Methane gas exploded in the ventilation system of the mine, in Cam Pha Town's Mong Duong Ward.
Doan Van Kien, manager of Vietnam National Coal and Mineral Industries Group, arrived at the accident site to direct the rescue work. Twenty injured miners were rushed to Cam Pha General Hospital.
Rescue work was hampered by the high concentration of toxic gas in the mine. One rescue worker died and other five others lost consciousness from inhaling methane gas.
The coal company donated VND30 million (US$ 1,766) to the family of each person killed in the accident. On Monday Quang Ninh People's Committee offered VND3 million (US$179) to each family of the deceased and VND1 million ($60) to each injured worker. Cam Pha Town's People's Committee also donated VND1 million to each family of the deceased and VND500,000 (US$30) to each of the injured. The Ministry of Industry and Trade gave VND50 million for all the victims of the mine accident.
Rescue work is continuing as some miners remain missing.