Vietnamese Prime Minister Nguyen Tan Dung Wednesday sent an urgent directive to Vietnam National Coal and Mineral Industries Group (Vinacomin) and Quang Ninh Province's People's Committee to improve mine safety.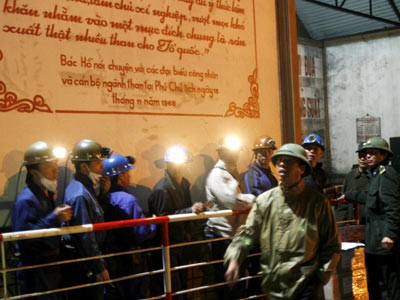 Rescuers  prepare to resume search for the last survivors after the explosion (Photo:Vietnamnet)
Mr. Dung's message followed a methane gas explosion at a Quang Ninh coal mine on December 8 that killed nine miners and seriously injured 24 others.
The prime minister sent condolences to victims' families and said Vinacomin, the government of the southern province of Quang Ninh and other agencies would help the families of the dead and injured as well as conduct their burial ceremonies.
The Ministry of Industry and Trade (MIT) will help stabilize the lives of survivors of the accident so the mine can resume operations quickly.
The Ministry of Labor, Invalids and Social Affairs (MOLISA) in coordination with MIT and the provincial administrations are to provide a report to the prime minister on what caused the accident.
MOLISA is also to take charge of instructing mine safety measures.
Nguyen Duc Kien, National Assembly deputy chairman, visited the accident scene on December 10. He called on miners to do their best to overcome the accident and presented VND25 million (US$1,471) to the company to support the victims of the explosion.
In 1999, another serious mining accident also occurred in Quang Ninh Province, the country's main coal mining region, which killed 10 miners. Since the start of 2008, the industry has experienced 20 major accidents, resulting in the deaths of around 30 people.
Related article:
Mine blast kills eight in northern coal mine