The minimum monthly salary for employees working in state-owned businesses will rise to VND540, 000, said an official from the Ministry of Labor, Invalids and Social Affairs.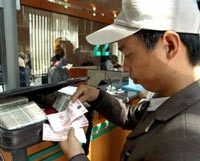 Employees' salary should rise when the price of goods is increased daily
The Ministry has submitted the proposal to the government, which is now awaiting approval. Once approved the raise will take affect as of October this year.

Investigations into workers' basic needs and the country's yearly economic growth have been used to calculate the proposed raise.
Earnings should increase so that the salary level between state-owned and joint venture businesses in Viet Nam will be even by 2010.

However, the proposed increase in income will be determined by region, and the cost of living and the state of the labor market there.