From May 1, eight million will see there minimum monthly wages increased to VND650,000 up from VND540,000 for state employees. Pensions and social insurance welfare were also increased by five percent.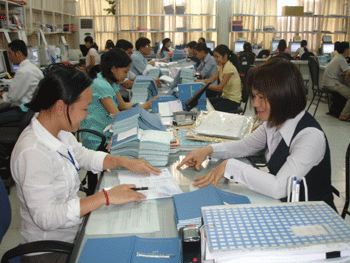 The increase in minimum wage will aply only to state employees.
According to Pham Minh Huan, deputy Ministry of Labor, War Invalids and Social Welfare, increasing the minimum wage will have little effect on businesses.
Many businesses have made plans to adjust salaries and have announced the changes to their workers.
Mr. Huan said increasing increased wages will not lead to an increase in the consumer price index because the increase in minimum wage will apply only to state employees and will not affect the pay of 46 million laborers nationwide.
This is an important policy and will protect workers on low incomes and ensuring their social welfare, Mr. Huan added.
The adjustment was based on economic growth rates and the consumer price index, and ensures a balanced State budget and increase in the social insurance fund.