Transport Minister Dinh La Thang inspected the ongoing progress of the upgrade project of National Highway 1A in the central province of Quang Nam on Thursday, wowing to see the project complete in four years or else resign from his post.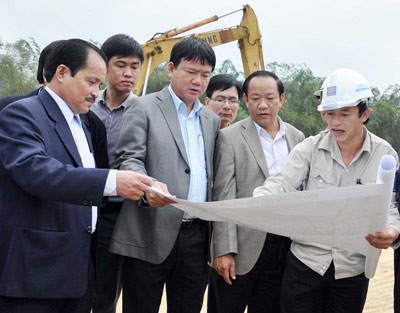 Transport Minister Dinh La Thang (C) with leaders of Quang Nam Province and the construction units at the project site on February 9 (Photo: SGGP)
Minister Thang led a survey team from the transport ministry to inspect key traffic works in the province, including construction of the Huong An Bridge which is already behind schedule by two years, due to delays in site clearance.
According to Thang, the ministry is focused on upgrading and widening 85 kilometres of the highway in Quang Nam Province. In case he fails in his efforts to complete the project as per schedule Minister Thang has wowed to resign from his present post as minister.
Le Phuoc Thanh, chairman of the People's Committee of the province said that several road accidents have occurred on Highway 1A as it is too narrow; hence the highway should be broadened as soon as possible to avert more accidents.
The province on its part will mobilise all resources to clear the site for construction of the project.