Participants in the first-ever national symposium to discuss the establishment of a comprehensive Governmental web portal and online conferencing system, dubbed the 'e-Government', discussed the necessity of building an e-Government linked to administrative reforms during their second day of meeting in Ha Noi on Dec. 17.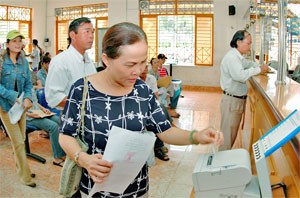 A view of the Binh Thanh District People's Committee office in HCMC. A national workshop going on in Ha Noi is considering the direction e-governance is taking in the country and ways to improve it ( Photo: SGGP)
According to the participants, creating an e-government site forms part of the country's administrative reform strategy to improve the effective operational capacity of the Government. Thus, there should be a synchronous legal framework and a financial mechanism for the development of the IT sector.
They proposed that the amount of ODA capital spent on IT projects should be increased from the current level of US$0.6 billion.
Minister of Information and Communications, Le Doan Hop revealed that Vietnam's government index has improved its position in a global ranking system recently, climbing to 91st place, up from 105th in 2005.
The Government and its cabinet have recently been conducting an increasing number of online meetings. However, the country is facing many challenges in the process of developing a sustainable e-government system due to limited IT infrastructure and poor IT project management skills, Mr. Hop said.
Among the nation's ministries, the Ministry of Education and Training ranked first in terms of a readiness index for IT development and application (ICT Index) in 2007, followed by the Ministry of Agriculture and Rural Development.
Ha Noi was ranked first among the nation's cities and provinces, followed by Da Nang city and Ho Chi Minh City.