Ministry of Culture, Sports and Tourism disapproved of three solutions proposed by the Ministry of Transport to build the new Long Bien Bridge, said the ministry's spokesman of March 6.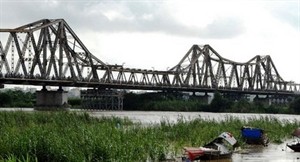 Long Bien Bridge (Photo: VNA)
The ministry's first solution is to build a new bridge at the current area and remove the old one for preservation at the Red River.
The second proposal is to construct a new bridge with a different design but the same shape to meet development guidelines. The Culture of Ministry rejected this proposal because they would like to see the original bridge preserved for national patriotism.
The third proposal is to refurbish the new bridge by rebuilding the center of the old bridge. The Ministry of CST rejected this because it would change the shape of the bridge.
The Ministry of CST proposed the Transport Ministry to reconsider all these three methods.
Hanoi People's Committee should file documents to list Long Bien as a national relic to have suitable preservation measures and study a project to build the new bridge separately from the current bridge, said the spokesman.