The Ministry of Agriculture and Rural Development and the Ministry of Industry and Trade yesterday met to debate measures to stabilize goods prices and supply sources for the Lunar New Year Festival in February.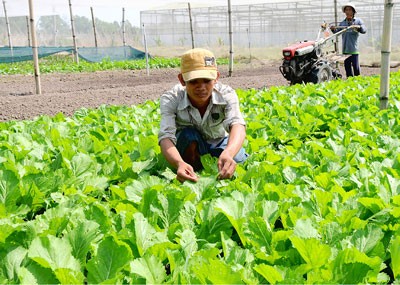 Vegetable farming under VietGap quality standards at Tho Viet Cooperative, Cu Chi District, HCMC (Photo: SGGP)
Head of the Agro-Forestry, Seafood Processing and Salt Industry Department Vo Thanh Do said that rice supply for the coming Tet holidays is abundant with over 1.5 million tons in January and February.
Rice prices have been stable or slightly reduced by VND200-300 a kilogram in the southern region where is entering the winter spring crop. The Ministry of Agriculture and Rural Development forecast rice consumption demand will somewhat increase in the Tet occasion.

Deputy Head of the Department of Livestock Tong Xuan Chinh said that supplies of pork and beef, poultry and seafood are expected to be plentiful. These goods' prices have been stable or in down trend thanks to petrol price fall. The department reported an increase of 20 percent in the output of pork and beef, poultry, eggs and milk for Tet holidays in January and February over normal months.
The Department of Cultivation said that vegetable area has reached 881,000 hectares, up nearly 33,000 hectares over the same period last year thanks to fine weather.
At the meeting Deputy Minister of Industry and Trade Do Thang Hai said that provinces and cities are rushing to stockpile goods for Tet holidays, as Hanoi has spent VND16 trillion (US$748.36 million) for the purpose.
Goods scarcity will not occur in big cities such as Hanoi and Ho Chi Minh City but might happen in some remote areas, he added.