Nguyen Dinh Nguyen in the northern province of Bac Ninh breeds cockroaches to export to China despite the ban against breeding the insect.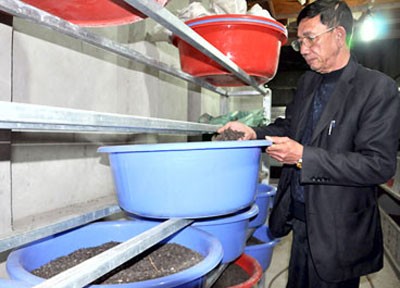 Nguyen is at his 200 squre meter cockroach farm in Bac Ninh Province  (Photo: SGGP)
My friend told me about the thriving business in China, said Nguyen. He breeds them in a 200-square meter area. They are popularly used in Chinese herbal medicine.
Giang Trieu Vinh, a Chinese man, moved to Vietnam to provide breeding techniques.
Farmers in Vietnam have long suffered from unsteady business practices. There was a previous high demand for snails exported to China that subsided.
Farmers suffered monetary loss due to this recession. Farmers harvested leeches, apple snails, and cashew and litchi trees to export to China.
The Ministry of Agriculture and Rural Development ordered Bac Ninh People's Committee to prevent the breeding and import of certain cockroaches because they are hosts of many diseases such as diarrhea and cholera.
There has been no scientific evidence of health benefits of cockroaches.
Bac Ninh Province authority is urged to issue penalties on those who breed and import the insect in the province.