The Ministry of Industry and Trade declared a list of 27 thermal power, mining, chemical, fertilizer, steel and paper plants and projects posing a threat of environmental pollution nationwide on October 20.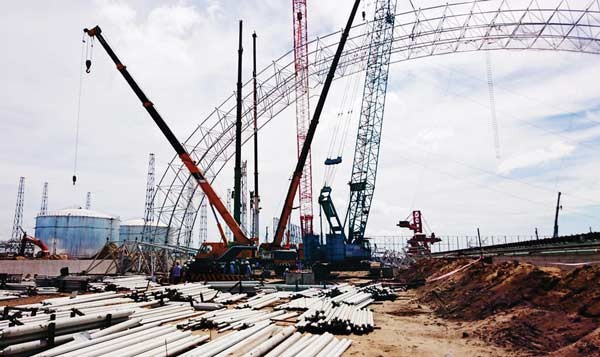 The construction site of Duyen Hai 3 Thermal Power Plant, one of projects was named in the list of environmental pollution threat announced by the Ministry of Industry and Trade on October 20 (Photo: SGGP)
The move accords with a directive issued by Minister Tran Tuan Anh to speed up environmental protection in the industry and trade field.
Of the 27 mentioned ones, there are eight thermal power plants of Vietnam Electricity including Thai Binh 1, Vinh Tan 2, Vinh Tan 4, Duyen Hai 1, Duyen Hai 3 and Quang Ninh Thermal Power Joint Stock Company.
Six belong to Vietnam National Oil and Gas Group including Vung Ang 1, Long Phu 1, Thai Binh 2, Song Hau 1 thermal power plants, Nghi Son Oil Refinery Complex and Ca Mau Gas Processing Plant.
Four belong to Vietnam National Coal and Mineral Industries Group namely Nhan Co Aluminum, Thach Khe Iron Mine, Sin Quyen Copper Mine projects and Lam Dong Aluminum Company.
Five are of Vietnam National Chemical Group including DAP Company No.1 and No.2, Lam Thao Fertilizers and Chemical Joint Stock Company, phosphate and chemical plants in Tang Loong Industrial Park of Lao Cai province, Ninh Binh Phosphate Fertilizer Company.
Vietnam Steel Corporation has one plant in the list--Thai Nguyen Iron and Steel Join Stock Corporation.
Vietnam Apparel and Textile Group has two projects comprising Pho Noi Vinatex Industrial Park and Viet Thang Garment Company. Vietnam Paper Corporation has one which is Bai Bang Paper Mill.
According to Minister Tran Tuan Anh, environment protection is an urgent matter needing immediate actions, adding that authorized agencies under the ministry should continue detecting and estimating environmental risks and dangers of plants and projects and supervise their environment protection.
Especially, they should review and assess technologies used by thermal power, mineral mining and processing, chemical and garment and textile plants to build a set of industry regulations for sustainable development.
They have to say no to unfriendly environmental projects and existing plants should gradually renovate their technologies to reduce waste emission.
The minister urged investors of the mentioned thermal power projects to build a process to handle ash and cinder, install automatic observation systems to control their waste emission into the environment this year.
Moreover, Mr. Tuan Anh asked them to implement measures for their plants to meet national standards on fume and report to the ministry by the end of this year.