At a press conference hosted in Hanoi on Monday, representative heads from the Ministry of Transport tried to resolve issues pertaining to the newly adjusted office and school timings implemented in Hanoi since February 1 and which have raised public protests.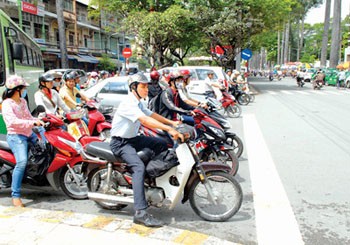 Ministry of Transport will modify school and office timings after reviewing results (Photo: SGGP)
The new timings for office working and school hours were made by the ministry in an effort to find a permanent solution to tackle traffic congestion in the city. However, with the new changes causing much inconvenience to both students and working parents, the issues still remain unresolved.
Deputy Minister Le Manh Hung said the new timings had already partly reduced traffic congestion during peak hours in the city. However, the implementation was started after the Tet holidays, when many people have still not returned to the city from their hometowns.
As a result the ministry needs more time to assess the effect of the new adjusted timings, he said.
 
The ministry is expected to chair a meeting with the Hanoi City People's Committee on February 10 to review initial results of the change in timings. They would then resolve any problems once the causes were determined and make the necessary re-adjustments.
Related article:
Hanoi makes adjustments to office, school timings