In the midst of a prolonged drought that has devastated Vietnam's hydroelectricity output, Minister of Industry and Trade Vu Huy Hoang has instructed major energy providers to raise their power supply capacity.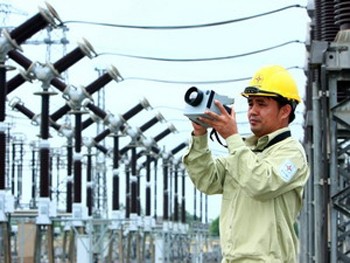 A worker inspects a power facility's 500kv cable system (Photo: VNA)
Accordingly, Vietnam Electricity (EVN) has been asked to mobilize all power sources available to the national electricity system to serve production and the needs of daily life.
EVN should focus on repairing breakdowns at Hai Phong 1 and Quang Ninh 1 thermal power plants and bring them back online as soon as possible, the minister ordered. He also asked that the power supplies being dished out by major electricity corporations be monitored strictly.
The company must follow all instructions by the Prime Minister and the ministry if they are forced to regulate and curtail additional charges, Hoang said.
The ministry asked Vietnam Oil and Gas Group (PVN), to work with EVN to determine how much power can be generated at the Ca Mau 1 and 2 thermal power plants.
They should prepare enough diesel fuel for electricity generation at the two plants while the gas supply system PM3-CAA is maintained and prepared, according to the order.
Instructions were also given to the Vietnam Coal and Mineral Industries Group (TKV) to encourage it to prepare power generation units at Son Dong and Cam Pha thermal power plants and take them back online.
In related news, the central province of Phu Yen's People's Committee has asked EVN and the Central Power Corporation to allocate power output responsibilities more reasonably.
In a document released on June 24, the province authorities said that local power allocation levels set by the central power corporation were just 1.2 million kwh a day (0.33MW), accounting for only 0.103 percent of the total capacity of about 322 MW that hydropower plants in the province supply to the national power system.
Because of low power allocation, regular and longstanding electricity failures have occurred in the province, seriously affecting to production and residents' daily lives.