The Ministry of Construction has proposed establishing a house savings fund to support low-income group of people in buying a house, in view of unaffordable housing costs.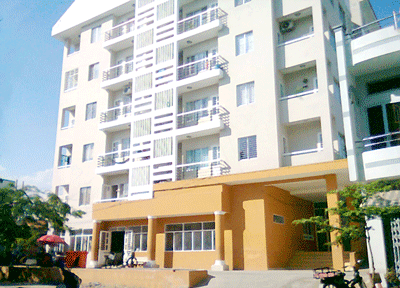 An apartment block on Ba Hom Street in District 6 is part of a social housing scheme for state-run company employees (Photo: SGGP)
The ministry will lay out the plans and policies of this fund within this year. It plans to carry out a pilot phase in Hanoi and Ho Chi Minh City during the period 2013 – 2015.
If the model proves effective in two of the country's biggest cities, it will be conducted nationwide, said the ministry.
The house savings fund will be generated from 10 per cent coming from the housing development fund, 30 per cent from profits of housing lottery and bond issuance, people's personal savings, and the State budget.
The fund will also raise awareness in people of the importance of saving, if they want to have a house of their own.
Individuals and families wanting to buy a house will be required to contribute to the fund on a monthly basis in ratio to the expected loan amount.
They can buy a house of an average area of around 50 square metres when they have contributed a minimum of 30 per cent of the house value, within a five year period.
The loan will be given for a 15-year term at 5 per cent interest per annum.
In cases where borrowers encounter difficulties, the Government will provide assistance, such as allowing them to rent a house that is built for the disadvantaged, and require them to return the purchased house.
The fund will provide loans to enterprises that have a social housing construction project.  The loan will amount to 70 per cent of the total expenditure of the project.