HA NOI(VNS) — Starting next year, public investment project plans will be formulated every two years instead of every year as is currently done, Planning and Investment Minister Bui Quang Vinh told Vietnam News Agency in a recent interview.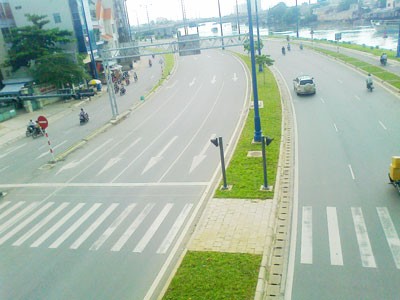 In 2013, up to 96.5 per cent of capital investment allocated from the central budget to localities has disbursed to implement the 2013-14 plan.— Photo: Cat Tuong
He said the move is part of efforts to restructure the planning process for public investment projects so that they become more efficient and less wasteful.
"The Government's decision has been welcomed as one that will increase transparency and accountability in the use of public funds, while avoiding corruption and wastage," Vinh said.
He said the new measure builds on provisions of a prime ministerial resolution issued in February 2011 that was a policy milestone, marking the nation's switch from a focus on rapid development to a more suitable pace in the context of the world economic downturn that had significantly impacted Viet Nam.
The resolution had eight major areas of focus including curbing inflation, stabilising the macroeconomy, ensuring social security and achieving a rational growth rate, Vinh said.
One of the eight areas listed was investment, with the resolution tightening monetary policy and strictly controlling public investment.
"After three years of implementing the PM's resolution, our macroeconomy has gradually been stabilised and inflation has been brought under control," Vinh said.
He noted that in October 2011, the Government had issued fresh instructions on strengthening management and use of State budget funds as well as Government bonds in public investment.
"In 2013, ministries, sectors and localities nationwide have done their best to continue implementing the instructions. While the problem of fragmented and inefficient investment still remains, the situation is much better than it was in the past."
Noting that 2014 will be the first year Viet Nam introduces the "new public investment mechanism," Vinh said it will possibly prevent corruption and power abuse through information disclosures throughout the construction process.
He said the Government has already approved the first two-year (2014-15) investment plan for all ministries, sectors and localities nation-wide.
He said that in 2013, up to 96.5 per cent of capital investment allocated from the central budget to localities has disbursed to implement the 2013-14 plan.
In 2014, this percentage will be even higher, an indication the ministries, sectors and localities have all realised the benefits of the PM's decision, he said.
"I am hopeful that outstanding debts in capital construction will reduce quickly in 2014, reflecting efficient management of public investment."
Other sources
Vinh said that as a general rule that applies not just in Viet Nam but other countries as well, State budget funding of public investment will be downsized in the coming years. Therefore, another important measure the government will introduce soon will aim to mobilise capital for infrastructure construction and public services from other sources, he said.
"We should open a new chapter on non-state economic sectors participating in public investment, particularly the private sector."
Vinh said his ministry was currently drafting a legal document to promote public-private partnership in public investment.
He said the new decree will try to synthesize provisions of implementation Decree 108 on the Law on Investment as well as Decision 71 on piloting Public-Private Partnership projects.
"In the PPP Decree, we want the participation of both State-owned Enterprises (SOEs) and foreign corporations. This is the most important aspect of the document as we want to have more human and capital resources to invest.
"When the PPP Decree comes into force, the State Budget will only provide counterpart funds for projects.
"This is very important decision in the strategy to mobilise more investment for mid and long-term projects," Vinh emphasised.