The Ministry of Agriculture and Rural Development on Wednesday held a meeting to review effectiveness of shrimp farming in brackish waters in Ca Mau Province in the Mekong Delta region.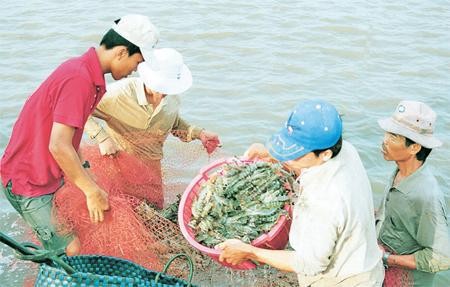 Farmers harvest shrimps in the Mekong delta province of Bac Lieu (Photo: VNA)
According to the ministry, the country breeds over 656,000 hectares of shrimps in brackish water. In 2011 the total output was nearly 496,000 tonnes, an increase of 2.7 per cent, and 5.48 per cent compared to 2010.
The Mekong Delta alone bred over 602,000 hectares, accounting to 92 per cent of the total output of the country.
However, widespread disease caused damage to 98 hectares in 2011, even though Vietnam's shrimp industry was warned on high antibiotic residues, especially in the Japanese market.
Minister Cao Duc Phat has subsequently ordered authorised organisations and localities to improve management of shrimp breeding and curb usage of chemicals in this year's shrimp crop. Seafood production units should be closely monitored to ensure quality of feed source.