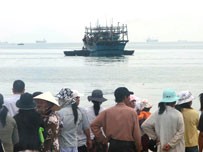 Villagers wait for their relatives in the storm-affected regions
A fisherman reported missing in Typhoon Chanchu more than three months ago has suddenly returned home, the authorities of the central coast province of Quang Nam announced on Thursday.
The survivor, Nguyen Van Huong, 34, was blown overboard in May and drifted to a small island.
A fishing boat from Quang Ngai province eventually picked him up but he had to spend a further month at sea on the boat, which only returned to the mainland a few days ago.
 
Typhoon Chanchu, Viet Nam's first of the year, claimed the lives of hundreds of Vietnamese and Chinese. In Viet Nam, nearly 1,000 people were rescued from the tropical storm.