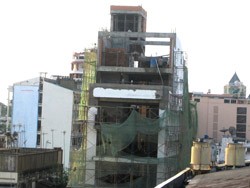 Constructions in Ho Chi Minh City are monitored by a Mobile Inspector Squad (Photo: T.C.)
The Ho Chi Minh City People's Committee has just approved the setup of the Mobile Inspector Squad under the Inspection Office of Ho Chi Minh City Department of Construction.
It is located in 60 Truong Dinh St., Ward 7-District 3.
The squad is responsible for checking, patrolling and monitoring construction order based on urban planning approved by relevant authorities.
In addition, it cooperates with the local Urban Order Monitoring Squads and People's Committees in checking and handling infringements on constructions in Ho Chi Minh City.