After media reports of many gas stations around the country selling fuel in small volumes in anticipation of a price hike, the Ministry of Industry and Trade has warned of stiff penalties to hoarders, smugglers and rumor mongers.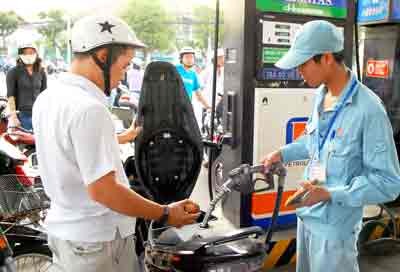 Petrolimex's petroleum station sells as usual (Photo: SGGP)
In an urgent dispatch to distributors on February 18, the ministry ordered them to check retail shops and report any persons violating the law or closing their stores or selling reduced volumes of petrol.
The ministry also ordered departments of Industry and Trade to ask stores to remain open as usual to meet the public demand. Bureaus of Market Management and relevant agencies have been requested to maintain vigilance.
The government intends to impose harsh penalties on any hoarding activities, smuggling, rumor-mongering and closing of stores or sale of reduced volumes. Penalties include revoking of business licenses and criminal charges. People are being encouraged to use the hot line numbers: 0902264200, 0912832929 and 0936283777 to report violators.
In an urgent meeting with relevant agencies and petroleum enterprises on February 21, Deputy Chairwoman of Ho Chi Minh City People's Committee, Nguyen Thi Hong, promised retribution of business license cancellation or criminal proceedings against violators. 
Enterprises affirmed the supply of sufficient petrol to meet the demand, while market management people blamed the uncertain situation to be the result of the exchange rate hike as well as the hike in petrol in the global market.
During the last few days, some gas stations had stopped selling fuel, giving excuses like power cuts, technical problems or simply having run out of stock. There is anticipation of a fuel price hike based on the speculation that the country's petrol price stabilization fund has run out of money.
Although fuel companies are incurring a loss of VND2, 000 or around 10 US cents on each liter of gasoline they sell and added with the exchange rate hike, they are clearly facing grim times.
However, they have promised to ensure a steady supply in the market from the Dung Quat Oil Refinery Plant.  Le Xuan Trinh, deputy general manager of PetroVietnam's (PV Oil), Do Huu Phuc from Petec Trading and Investment Company Limited and Vuong Thai Dung from the state-owned Vietnam National Petroleum Corporation (Petrolimex) are confident that the refinery will be able to cope with a steady supply.