The central committee of Vietnam Red Cross on August 8 urged 10 million VRC members to act to support Agent Orange/dioxin victims nationwide, especially in the month of action for aid to AO victims.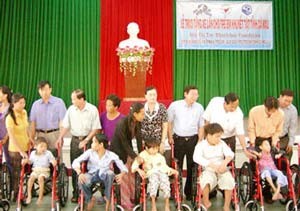 An activity to help dioxin victims in Viet Nam
The program will be organized from August 10 to September 9 for the Day for AO/Dioxin Victims, August 10.
VRC leaders have visited and presented gifts worth VND 500,000 each to the victims in Ha Nam, Bac Can, Lang Son, Lam Dong and Hoa Binh provinces.
The VRC central committee has also handed over gifts from the International Red Cross Committee to the victims in Thai Binh, Ha Giang and Lao Cai, including medicine cabinets, money to build houses, and wheelchairs.
VRC Deputy General Secretary Nguyen Huu Hong said that VRC has annually launched three national movements to help the AO/dioxin victims. These movements have received about VND165 billion to help the victims.
The VRC Fund for Support of the AO/dioxin Victims over the past decade has provided aid to millions of victims throughout the country.
The fund has also taken part in a series of scientific research on AO.
The Hanoi Association of AO/dioxin Victims on August 8 held a meeting marking the Day for AO/dioxin Victim.
At the meeting, the association presented 160 gifts, worth a total of more than VND55 million, to the victims in 14 districts and precincts in the inner-city areas.
The Director of the Vietnam News Agency's Fund for Support of AO/Dioxin Victims also presented a wheelchair to a girl from Dong Anh district.
The association also received more than 50 million VND and three wheelchairs from individuals in Hanoi.
According to the Hanoi association President Tieu Van Man, Hanoi has more than 7,000 AO victims. The association has visited more than 2,500 victims, built three houses for poor victims' families, repaired 12 houses and granted 10 wheelchairs to the victims.