Agencies and organisations at home and abroad on October 4 launched fund raising campaigns for the victims of typhoon Wutip in the central region in response to an appeal made by the Vietnam Fatherland Front (VFF).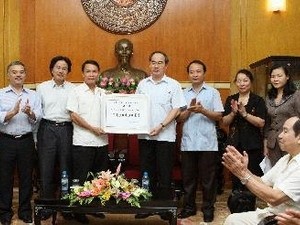 VFF President Nguyen Thien Nhan receives the money donated by Vietnam News Agency staff (Source: VNA)
The Vietnam News Agency (VNA) called on its staff to donate at least one day's pay each, raising over 200 million VND (9,500 USD) during the first day.
VNA General Director Nguyen Duc Loi handed over the money to VFF President Nguyen Thien Nhan the same day to deliver to those in need as soon as possible.
Leaders and staff of the Party Central Committee's Commissions for Organisation, Popularisation and Education, and Mass Mobilisation also donated at least one day's salary each to help storm-hit people normalise their lives.
The Party Committee of the Central Business Sector collected nearly 23 billion VND from its member units and staff, while the Bao Viet Insurance Group mobilised over 500 million VND.
The Vietnamese Embassy in China also raised more than 80 million VND in aid for the typhoon victims.
Meanwhile, the People's Committee of Quang Binh province has decided to provide 19 billion VND in emergency aid to seven districts to help them overcome the storm consequences.
Quang Binh is the hardest-hit locality with five deaths and total property losses of over 8 trillion VND (381 million USD).
According to the local VFF committee, the province has to date received 2.53 billion VND in cash and goods worth 40 million VND from organisations and individuals nationwide.
At the same time, the People's Committee of neighbouring Ha Tinh province has asked for 200 billion VND in aid from the Government to help local people surmount storm aftermaths.
According to the National Steering Committee for Flood and Storm Prevention, tropical storm Wutip, the tenth to hit Vietnam this year, claimed 9 lives, and injured 199 in six central provinces by October 2.
The typhoon, the strongest since 2006, destroyed 372 houses, unroofed over 194,000, and flooded over 25,700 houses, hospitals and public facilities.
Nearly 17,000 ha of rice and other crops were submerged. Many sections of hydraulic systems, dykes, and water reservoirs in the region were seriously damaged.