The overseas Vietnamese community in Malaysia have been updated on the latest development in the East Sea, with China's illegal placement of its rig in Vietnam's exclusive economic zone and continental shelf.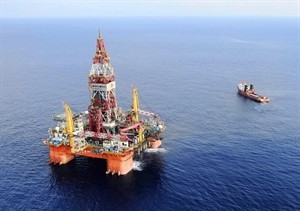 In the area (Source: AP)
Meeting representatives from the community on May 13, Vietnamese Ambassador Nguyen Hong Thao, who is also an expert on maritime law, described China's move as a serious violation of international law. He stated that it counters the 1982 United Nations Convention on the Law of the Sea and the Declaration on Conduct of Parties in the East Sea, to which China is a signatory.
He made it clear that the Vietnamese Government expects to peacefully settle the dispute with China in line with international law on the basis of equality and mutual trust.
Vietnam will take all necessary steps to stop China's wrongful acts, he noted.
The same day, the Vietnamese Association in France issued a communiqué protesting China's violation and expressed its gratitude to the Vietnam coast guard working in the area.
It also called on the French and people around the world to side with Vietnam in its fight for peace and stability.
In its announcement on May 12, the Vietnam Business Association in Australia also called for support from Vietnamese and peace lovers worldwide. It asked China to pull its rig and escort ships out of Vietnam's waters without delay.