Downpours over the last two days have once again brought floodwaters to central provinces where millions of inhabitants are still struggling to resume their normal lives following previous floods.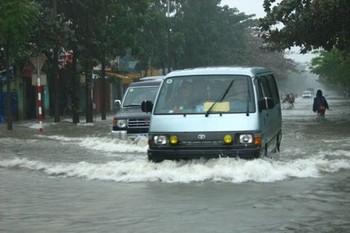 Floodwaters submerge many roads in the central city of Hue
Yesterday, rainfall measured 100-150mm in many central provincial areas and in the provinces of Thua Thien-Hue 300mm and Quang Nam 250mm.

Water levels in local rivers rose rapidly and are expected to ring the third alarm level tomorrow.

In the city of Hue, raging floodwaters left dozens of roads under 0.7-1.0m of water, the Huong River this morning was at 1.81m, 0.3m higher than its second alarm level, and the Bo River was 1,99m or 0.99m above its first alarm level.

Hundreds of schools in Hue and other areas have been closed for safety reasons.

Rising waters have again inflicted damages on crops in the districts of Quang Dien, Phong Dien, Phu Vang and Huong Thuy where some dikes burst.

Local farmers are now prevented from sewing new crops on land underwater for an even longer time.