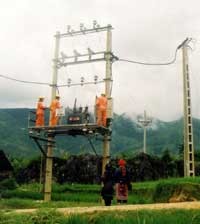 Workers are checking at a transformer station in Lao Cai Province's Ta Phin Commune.
Electricity of Viet Nam has connected 892 of the planned 976 remote communes to the national power grid but rough terrain is hampering the project's final stages.
Because the roads to quite a few communes are so poor, EVN has been forced to use boats to deliver equipment in some instances.
Even with these hindrances the national power utility is confident of finishing the entire job this December.