The bus services in Ho Chi Minh City have not meet up with the requirements of techniques, environment and customer services in spite of the city authorities' management programs.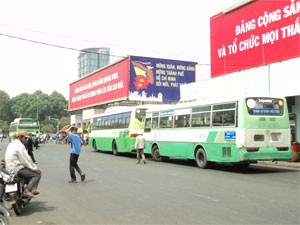 Two buses line up at a bus station in downtown Ho Chi Minh City. Half of the city buses need to be replaced as they could not meet up the pollution standards (Photo:Minh Tri)
There are more than 3,000 buses on the street of the city, but most of them are aging. Statistics from the Department of Traffic and Transport HCMC show more than half of the amount need to be replaced as they could not meet up the pollution standards.
The number of passengers, meanwhile, is increasing sharply, reaching the rate of around 1.3 million per day.
Therefore, the city bus service is facing many issues including aging buses and overloading. Passengers complaint they had to jostle each other and suffer impolite attitudes of drivers. The disabled, old people and pregnant women are not safe when traveling by buses.
Bus drivers blamed overloading for making buses aging and damaged. They also said the buses were not put into regular maintenances. Thus, they easily caused serious accidents when they have technical problems.
To curb the issue, the HCMC authorities planned to replace old buses with new ones, while waiting for metro projects to finish in the next 5-10 years.
The Department of Traffic and Transport HCMC has submitted the People's Committee an investment project, which propose to add 1,680 new buses to the city in the next five years.
Current buses are set to be replaced with smaller ones, which will be suitable for narrow streets with heavy traffics of the city. According to the project, new buses will meet up with gasoline emission requirements, with safe doors and air conditioners. Bus drivers and staffs will be trained in customer service skills.
The HCMC People's Committee also allowed bus project investors to borrow 80-70 percent of the project's total investment from lenders in seven years. The total amount of the loan can be up to VND301 billion (US$15 million)
In related news, Hanoi currently needs about $10 billion to develop its commuter infrastructure in the next four years, according to the director of the capitol's Department of Transportation.
 
The city will make official development assistance loans, issue bonds, and employ foreign investment plans like build-transfer to rally the funding, Nguyen Quoc Hung told Vietnam News Agency.
 
Hanoi has planned several major transportation projects, including beltways, suburban roads, and highways. It will also invest in a new bus systems as well as related management systems.