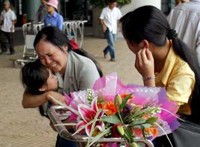 The first Vietnamese migrant workers arrive in Noi Bai airport
Seventeen Vietnamese workers in Lebanon arrived safely in the Syrian capital Damascus on Thursday morning.
Sai Gon Giai Phong newspaper caught up with Mr. Tran Viet Tu, counselor at the Vietnamese embassy in Egypt, and obtained the latest information on their repatriation schedule: the 17 workers flew from Damascus at 16h40 (Syrian time) to Doha, Qatar then left for Bangkok, Thailand on Friday.
From Bangkok, they will fly to Ha Noi and should arrive at 2 PM the same day.
Related articles:

Some Vietnamese Workers in Lebanon Will Not Leave
Vietnamese from Lebanon Evacuated Safely
VNA to Help Repatriate Vietnamese Workers in Lebanon
Vietnamese Workers Evacuated from Lebanon
Protect Vietnamese Interests in Lebanon
Viet Nam Mission Arrives in Beirut to Evacuate Vietnamese
PM Requests Repatriation of Vietnamese Citizens in Lebanon
Viet Nam Calls on Citizens to Leave Lebanon