The number of women in Vietnam delivering a third child continues to rise, reaching 27,453 in the first quarter, a year-on-year increase of 1 percent.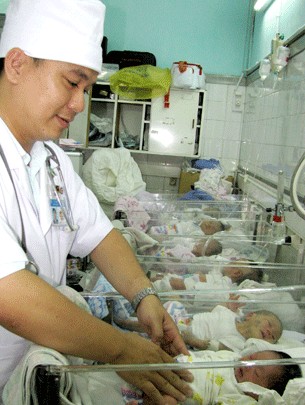 Dr Vu Te Dang with newborns at Tu Du Hospital in Ho Chi Minh City. The number of women having a third child continues to rise in Vietnam, worrying policymakers.
The number is expected to rise to 60,368 in the first half, also 1 percent higher than a year earlier.
 
At an online conference on May 11 between Deputy Prime Minister Nguyen Thien Nhan, and top officials from the Ministry of Health, General Office for Population Family Planning (GOPFP) and all 63 provinces and cities, Deputy Minister of Health and GOPFP head Nguyen Ba Thuy, said the increasing third-child rate is worrying since the 2008 rate was already the highest in recent years.
 
The rate might rise sharply this year, he feared.
 
Mr. Thuy also warned of a critical gender imbalance, saying the sex ratio was 112 last year and is likely to rise further.
 
Participants also discussed population management in provinces and cities, which they admitted remains poor.
 
Deputy PM Nhan instructed provincial and municipal people's committees to improve dissemination of information to heighten public awareness of population and birth control.
 
He told them to provide districts with computers to serve population and birth-control activities.
 
Mr. Nhan asked the health, internal affairs, and finance sectors to work together on drafting regulations for population workers and review the budget allocated for population programs.
 
A project to monitor the population in 28 coastal provinces has to be reviewed and instructions for implementing it issued, he said.
 
Population officials have to be trained further, he added.
 
He called on the Ministry of Health to develop a strategic program for population and reproductive health for the 2011-20 period.