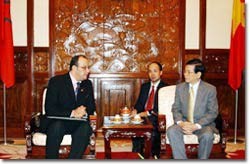 President Nguyen Minh Triet recieves Mr. Taieb El Fassi Fihri
Moroccan foreign affairs minister Taieb El Fassi Fihri paid a friendly visit to Viet Nam on Tuesday and inaugurated the opening of Morocco's new Vietnamese Embassy.
Morocco's new embassy in Ha Noi and the Moroccan envoy's visit are new and very welcomed developments in the two countries' relationship, President Nguyen Minh Triet said.
The two countries established diplomatic relations in 1961, and Morocco's King Mohamed VI has promoted ties with Viet Nam since he was crowned in 1999.
Recent visits of high-ranking officials have built a sturdy and amicable relationship between the two countries.
Morocco's King Mohoamed VI's sent a letter with the recent Vietnam envoy inviting President Nguyen Minh Triet to Morocco, which the Vietnamese leader accepted with pleasure.
Though different in many ways, Viet Nam and Morocco share common ground in terms of their relationships to the international community. Both developing countries are members of the non-aligned movement and the French-speaking community.