Pollution caused by industrial parks across the country has increased to alarming levels, according to the Department of Environment, part of the Ministry of Natural Resources and Environment.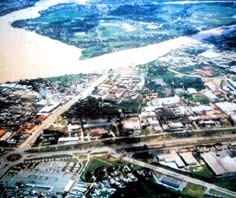 Bien Hoa 1 Industrial Park in Dong Nai Province seen from above

At most of the parks, untreated waste water, smoke and dust are discharged into the environment, creating a serious pollution problem.
Seventy percent of industrial parks have no waste water treatment facilities. Ninety percent of their production units release waste into the environment without treatment.
Every year, the parks discharge some 47.2 million cubic meters of industrial waste water and 220,000 tons of solid waste.
At the end of last year, the country had 183 industrial parks, located mainly in the south, the Red River delta and the central coast area.
The southern province of Dong Nai is preparing a plan to transform the Bien Hoa I Industrial Park into a trading and service center, because this park has created serious air and water pollution problems.
The park releases some 15,000 cubic meters of waste water per day. Only about 200 cubic meters is treated per day and the rest is discharged directly into the Dong Nai River.
The concentration of lead in the waste water released by the park is four times higher than the allowable level, according to the provincial Department of Natural Resources and Environment.
Once a plan has been drawn up, the Dong Nai authorities will submit it to the central government for approval.  Transformation of the park may take five to seven years.