Almost all motorists wore crash helmets yesterday – which was the first day a new law came into effect, obligating all motorists in Viet Nam to wear helmets.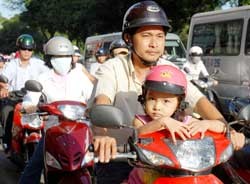 A new scene for traffic in Viet Nam. All motorists are donning the "rice cookers", local slang for helmets.
In Ho Chi Minh City, after two hours patrolling the Cong Hoa-Hoang Hoa Tham junction in Tan Binh district, local traffic police said that 99% obeyed the helmet law and they discovered only 16 violations.
Under Government Resolution No 32, all motorbike riders including people sitting on the rear seat and children on all roads in Viet Nam must wear helmets at all times. Each violator will be fined between VND100,000 and 200,000 (US$6.2-12.4).
"At major junctions [in HCMC], the compliance rate [wearing helmets] is surprisingly high, nearly 100%", said Senior Lieutenant-Colonel Vo Van Van, deputy chief of the city road traffic police.
However, on small alleys, and areas near markets and large residential areas, the rate is lower, he added.
In Ha Noi, local traffic authorities put the compliance rate at over 98%.
At the capital's Cau Giay Area where traffic is always thick, less than 10 violations were discovered for the whole morning, said traffic policeman, Senior Lieutenant Ha Van Minh.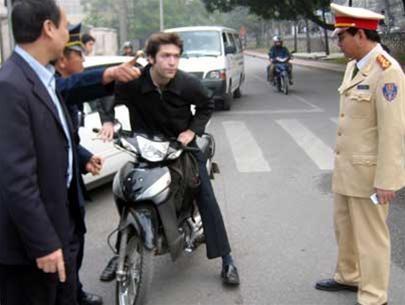 A foreigner without helmet in Ha Noi is stopped by traffic police (Photo: Tuoi Tre)
Most violations involve people sitting on the rear and not the drivers themselves, he added.
In the central region's Da Nang city, which is the third largest city in Viet Nam after Ho Chi Minh City and Ha Noi, nearly 100% of motorists wore helmets on major streets.
In the Central Highlands, over 90% wore helmets. In Lam Dong province's Da Lat Town where the Flower Festival is taking place, 98-99% wore helmets. Thanks to the Festival, police said they just warned violators yesterday and did not issue fines.
In highland Dac Lac and Dac Nong provinces, 95% comply while in Gia Lai, 90%.
In Can Tho city in the southern Mekong River Delta, the rate is put at over 90%. Violations occur mostly in rural areas, said Tran Thi Thanh Van, vice head of the city traffic police.
To tackle rising road accident-related deaths, the Vietnamese Government tried to pass a similar helmet law five years ago but failed following massive public protest. However, this time the Government made its intentions clear and showed its seriousness.
Approximately 12,000 Vietnamese died in traffic accidents in the first 11 months of this year, with motorbikes causing 75% of the accidents, according to statistics from the Ministry of Transport. Half of all the casualties had brain injuries.
According to the National General Statistics Office, more than 2 million new motorbikes were registered in August, raising the total to 21 million.
Related story: