The Vietnamese honor their mothers each year before and on the 15th of the lunar seventh month, by going to pagodas and offering prayers.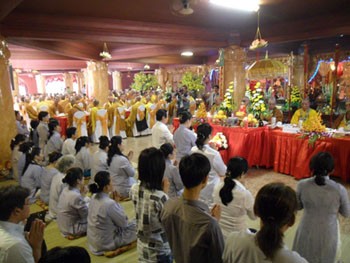 People attending prayers at Suoi Tien Cultural Park in Thu Duc District, HCMC (Photo: SGGP)
This year's 15th of the lunar seventh month falls on Sunday, August 14.
Vinh Nghiem Pagoda in District 3 of Ho Chi Minh City has in recent days seen streams of visitors flocking there to light incense sticks and taking part in the many activities organized during Vu Lan Festival on the 11th-15th of this lunar month.
Trang Van Tu's mother passed away in 1968 and his wife ten years back. Every year, he and all his family members go to the pagoda to honor their dead spirits.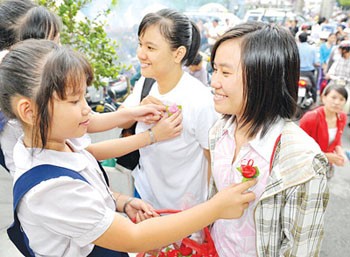 Mother receiving red rose from her daughter in the Vu Lan festival (Photo: SGGP)
Another very impoverished man said he had lost his mother and even though he and his younger brother were finding it tough to make a livelihood, they never forget going to the pagoda on every Vu Lan Festival, fondly remembering their late mother.
During the full moon of the month, those whose mothers have passed away receive offerings of a white rose, while those with their mothers still alive receive a red rose.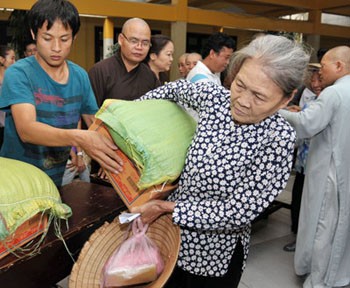 The poor receive gifts of rice during Vu Lan festival at Vinh Nghiem Pagoda in HCMC (Photo: SGGP)
Monk Thich Thien Tanh, deputy head of Vietnam Buddhist Sangha in Ho Chi Minh City says Vu Lan Festival is an opportunity for all pious Buddhist followers to honor the spirit of their mothers.
Pagodas also offer gifts of rice and other presents to the poor and impoverished as well as scholarships to disadvantaged students.