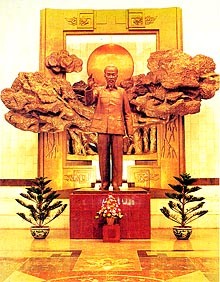 The statue of President Ho Chi Minh catches visitors' eyes whenever they enter the Ho Chi Minh Museum in Ha Noi
Thursday saw some new and unique donations to Ha Noi's Ho Chi Minh Museum, which is always busy receiving documents and relics concerning the late President Ho Chi Minh's life and revolutionary cause.
An elderly female artist, Mrs. Nguyen Thi Thanh Quyen, a former Con Dao Island political prisoner, gave an embroidered painting of Ho Chi Minh to the museum on Thursday, along with four other renderings of the nation's beloved father.
On the same day, a Russian family donated a two-minute video tape and four photos of President Ho Chi Minh during his visit to the Soviet Union in late 1950s.
As well, Hanoian Mr. Nguyen Tien De also gave a collection of poems about the life of the late President.
Museum director Nguyen Thi Tinh said the museum received more than 200 artifacts and documents in 2005 and 2006.