Music was a natural connection between individuals, friends and particularly between continents, including Asia and Europe, President Truong Tan Sang said yesterfday.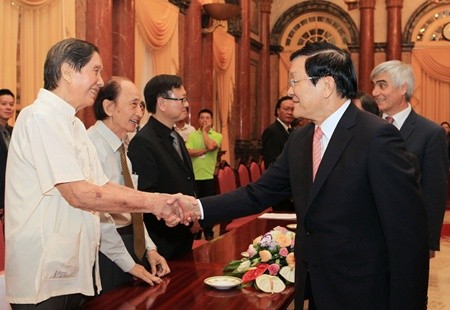 President Truong Tan Sang greets international artists and musicians attending the on-going Asian-European New Music Festival held in Ha Noi and Ha Long. –– VNA/VNS Photo Nguyen Khang
Sang was speaking at a reception for artists from Laos, Russia, France and the Philippines who are attending the Asian-European New Music Festival in Ha Noi and Ha Long.
He said he believed that the festival would help deepen understanding among musicians and artists from different countries.
The guests said people could better understand the traditions and culture of different nations through music.
Viet Nam was the first Asian nation to host the festival, which has been held every two years since 1993.
Composers from Russia and Tatarstan started the festival, which has served as a venue for outstanding work by composers and artists.
Training composers helped create beautiful music, Do Hong Quan, chairman of the Viet Nam Musicians' Association, told an international conference held yesterday in Ha Noi.
The two-day conference at the Viet Nam National Academy of Music (VNAM), which is in the framework of the Asia-Europe New Music Festival, involves many Vietnamese researchers and musicians plus five from Norway, the Philippines and the Netherlands.
"This is an opportunity to analyse training for musical compositions with reference to training models introduced by foreign experts," Quan said.
Geir Johnson, director of Norway's Transposition Project, spoke about the success of training composers in his country.
"During the last 50 years, Norwegian music has witnessed strong development," he said, crediting the higher standard of living for much of the progress.
Johnson said the State did not pay for this development, although it supported it.
"Rather, it's the result of personal commitment by thousands parents who, without payment, spend their spare time building choirs and orchestras to provide activities for youth," he said.
Johnson said composition was a way of training youngsters to be creative and to present their own ideas to fellow musicians.
"Today, there are more young composers. I believe musicians will be more inclined to work with composers of their own age and background," said Johnson.
"I'm confident that Norway's experiences with the young will be an inspiration for Vietnamese musicians."
Maria Muyco from the University of the Philippines told the conference it was challenging to introduce fresh ideas from living cultures into music.
"We still enjoy the classics while we search for the new," she said. "In Asia, there is a wealth of information that we can bring into our new works."
However, fewer Vietnamese now train in musical composition - and even those who do find there are few opportunities to work in the professional field, according to musician Vu Nhat Tan.
He suggested musical training should be a blend of Eastern and Western values modified to encourage students to compose soundtracks for films and create music for dance and theatre.
"In short, it's necessary to link composing to the reality of life," he said.
Another musician, Cat Van, suggested that the number of composition students in Viet Nam should be reduced and that only those who showed creative competency selected. He said the Viet Nam Musicians' Association should organise camps for composers and provide annual prizes for the best.
The conference was organised by the VNAM, the Viet Nam Musicians' Association and Norwegian State-funded Transposition Project.
The project transfers knowledge between the institutions through concerts, workshops, residencies for students and performers, musical education, development of archives and libraries, documentation and instrument maintenance