Thousand of local residents, domestic and foreign visitors came together to commemorate the massacre of 504 innocent residents in the central province of Quang Ngai's Son Tinh District on March 16.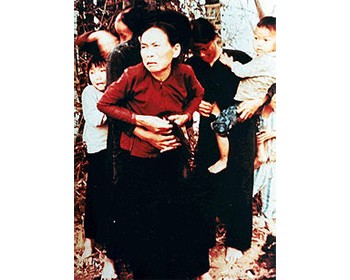 Photo of the women and children that were killed soon after this picture was taken in Son My village on March 16, 1968 (Wikipedia's file photo of Ronald L.Haeberle)
The Son My relic site and the provincial Department of Culture, Sports and Tourism in Tinh Khe Commune of Son Tinh District yesterday held an incense offering ceremony.
After a minute silence in memory of the innocent victims, a bell rang for a along time to commemorate the day of massacre.
43 years ago, on a March morning at the small hamlet of My Lai in Son My village, the US armed forces killed residents indiscriminately, most of them being women, children and the elderly.
The massacre created a ripple wave of protest across the world against the senseless war by America in Vietnam.