A drastic debate broke out among National Assembly (NA) deputies June 8, when they discussed the US$56 billion project for an express railway linking Hanoi and Ho Chi Minh City. While many deputies approved the giant project, more than deputies voiced their opinions against it.
On behalf the Government, Transport Minister Ho Nghia Dung delivered a report providing new information about the large-scale railway project that would span 1,570 km across 20 provinces and cities.
He said the project should begin in 2014, two years later than the initial schedule. He also said the Government would use advanced and environmental-friendly technologies for the project to ensure its efficiency.
The Government will use the capital mobilized properly in each period to avoid affecting the country's commitment to sustainable development.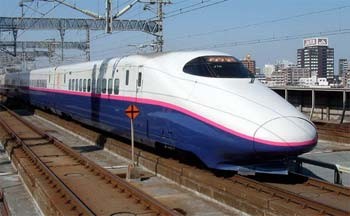 A bullet train in Japan (File photo)
Necessary demand
Among those who were in favor of the project, deputy Nguyen Dang Trung from HCM City, brought forward three reasons for his support.
First, traffic infrastructure development is of great significance to Vietnam's economic growth.
Second, as a poor country, Vietnam has to rely on foreign loans to meet its development needs. According to International organizations' assessment, Vietnam's national debt remains within the realm of safety and foreign lenders have faith in the country's ability to repay debts. This is a chance for Vietnam to receive loans to develop this project.
Third, Vietnam's geography is suitable for such a project.
Of the same view, Nguyen Ba Thanh from Da Nang City said, "If we make wasteful investment that leads to debt, we will cause harm to future generations, but if we leave the country with inadequate transportation infrastructure and an obsolete railway system, we also cause harm to our offspring."
 
"I approve the building of both an express railway and an express road," he stressed.
Another fan of the project, Tran Tien Canh from Ha Nam province, gave an interesting comment, "I have found that in countries where the average IQ is high, express railway projects are developed. Vietnam is among countries having a high IQ."
Prudence called
In response to Mr. Canh's opinion, deputy Nguyen Minh Thuyet from Lang Son Province said sarcastically, "My IQ is low, so I do not approve this project at all."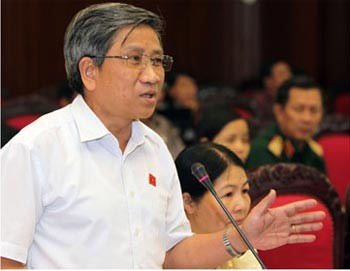 Deputy Nguyen Minh Thuyet speaks at the June 8 meeting in Hanoi (Photo: Tuoi Tre)
He said, "Some deputies romantically said the project is like 'waking up a fairy sleeping in a forest.' I think that when the fairy awakes, she will ask, 'Where does the money come from?' It is a very worrisome circumstance."
 
Meanwhile, Vu Quang Hai from Hung Yen Province said the NA should carefully consider the project, arguing that national debt is a very important issue.
"The estimate cost is $57 billion, but when the project is developed, the actual cost may be higher, even to $90 billion or more. If it is the case, how can we resolve the national debt problem?" he asked.
Dang Nhu Loi, deputy chairman of the NA Committee for Social Issues, said the NA should pass only one aspect of the proposed project: that the investor be the Vietnam Railway Corporation. All other provisions must be re-assessed carefully before the NA can consider them.
Ha Tuan Hai from Phu Tho Province said, frankly: "It is ill-advised to build an express railway for the time being. Getting foreign loans to spend them on an expressway only for passenger transportation will further burden our economy. Such a project should be developed after 2020."
He argued that priority should be given to practical projects, such as improving rural traffic systems to help bridge the development gap between rural and urban areas.
Sung Thi Chu from Yen Bai said the project was not essential to consider for the time being. She asked the NA to postpone its decision on the project.
Concluding the meeting, NA deputy chairman Nguyen Duc Kien said the NA Standing Committee would select the most reasonable opinions to be included in a draft resolution on the project, which will then be sent to NA deputies for their feedback before being submitted to the NA for approval.