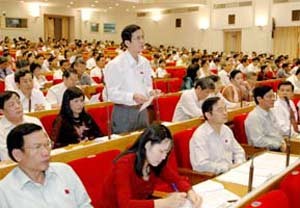 Most NA deputies suggest a strict regulation on tissue bankers.
Two contrasting ideas concerning permission for private enterprises to set up tissue bank were raised at a National Assembly meeting this morning to discuss a draft bill on human organs donation, body parts transplants and tissue grafting.
A majority of National Assembly (NA) deputies agreed to allow private companies to set up human tissue bank, saying that the establishment would show the increase in the involvement of society in the medical sector, and would encourage the scientific research of individuals and agencies.
However, some others thought that the government should not allow private enterprises to open such bank for fear of commercialization of body organs.
NA Social Affairs Committee Chairwoman Nguyen Thi Hoai Thu said the establishment of private tissue banks is obviously in line with integration trend and the draft law already included prohibition of trade of human organ donation. The government can control the bank's activities.
Yet, this matter is new to Viet Nam; as a result, the Vietnamese government must set roadmap and impose strict regulations.