The draft of the real estate law will permit oversea Vietnamese to own and trade real estate.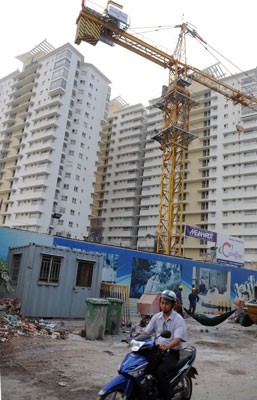 An under construction apartment block in Hau Giang Street, District 6, HCMC (Photo: SGGP)
This was announced at the 26th session of the National Assembly Standing Committee in Hanoi on March 10 by Minister of Construction Trinh Dinh Dung.
It also allows trading of future properties and removes the regulation which requires individuals and organizations to trade through real estate exchange floors.
  
Many houses and apartments blocks are left half-done or abandoned along the road from Hanoi center to Noi Bai Airport and along the National Highway 1A to Bac Ninh Province, said NA Deputy Chairman Huynh Ngoc Son.
Several investors have become victims of these abandoned projects, said Chairman of the NA Finance and Budget Committee Phung Quoc Hien. It is not safe to permit trading of future real estate.
The trade of future properties will be conducted with mandatory insurance regulation, said Minister Dung. Investors will have to trade through a guarantee organization.
Removal of real estate exchange floor regulation also causes controversial opinions from NA delegates.
NA Office Chairman Nguyen Hanh Phuc proposed to modify unreasonable things in operation of real estate exchange floors in stead of removing this regulation immediately. 
Oversea Vietnamese permitted to own houses in Vietnam
The draft housing law allows oversea Vietnamese to own houses in Vietnam.
Foreign organizations and individuals who are working in Vietnam will be able to purchase and own houses in housing projects, and tourist and ecological sites and resorts.
The NA Law Committee agreed to permit oversea Vietnamese and foreigners in Vietnam to possess houses. There will be regulations to ensure country's profits, national defense and public security.
Vietnamese overseas will not be allowed to buy houses in special areas. The number of houses in a certain area and of apartments in an apartment block will be limited to prevent establishment of foreigner areas.
Foreigners residing in Vietnam or with five-year temporary residence cards should be permitted to own houses, said Chairman of the NA Committee for National Defense and Security Nguyen Kim Khoa.
According to reports from provinces across the country, 126 foreign organizations and individuals from 22 countries bought property in Vietnam by the second quarter last year. This is a pilot policy launched since 2008.
Most of the 126 house buyers are in Ho Chi Minh City, Ba Ria-Vung Tau, Binh Duong and Khanh Hoa Provinces. Most owners are from South Korea.