Lawmakers examined and passed amendments and supplements to the Law on Health Insurance at a plenary session of the National Assembly in the afternoon of June 13.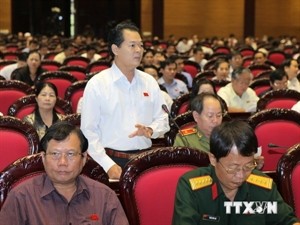 Ca Mau deputy Truong Minh Hoang speaks at the session (Photo: VNA)
The deputies later continued to debate draft revisions to a resolution on conducting vote of confidence on those holding positions elected or approved by the NA and the People's Councils.
They focused their discussion on issues related to the scope, time line, timing and consequences of the vote of confidence.
In the morning the same day, they discussed amendments to the Investment Law in groups.
On June 16, a plenary session will be held to debate the revisions of the Law on National Assembly Organization and vote on the draft Law on Entry, Exit and Residence of Foreigners in Vietnam and the revised Social Insurance Law.