The 35th session of the National Assembly (NA)'s Steering Committee was opened Monday in Hanoi, mainly focusing on dissolving citizens' complaints and denouncements.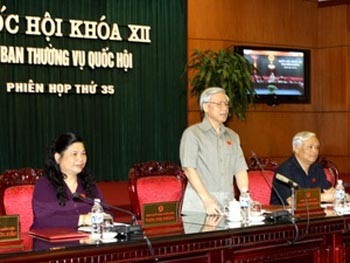 NA chairman Nguyen Phu Trong states to open the 35th session of the National Assembly's Steering Committee in Hanoi Monday (Photo: VNA)
According to a report by the Government inspectors, complaints and denouncements rocketed by 17 percent this year over the last year's period.
About 70 percent of the complaints were on the land using rights. Meanwhile, nearly 95 percent of the denouncements were in the administrative field, with the 5 percent rest from judicial operation.
The government has regarded dissolving complaints and denouncements as main tasks. At peak time, the Prime Minister had directly ordered relevant agencies to timely work out residents' urgent matters, Chief Inpector Tran Van Truyen said.
Besides, he admitted some limitations in the work, for instance, several cases have yet been solved for a long time.
Chairman of the NA Law Committee Nguyen Van Thuan asked the government to strengthen inspecting responsibilities of authorized organs in solving complaints and to strictly handle those lacking of responsibilities to tackle with the issues.
The government should set up a specialized agency to handle all long lasting complaints, according to head of the Ombudsman Committee for voter complaints Tran van Luong.
The same day afternoon, the session discussed adjustment of the Inspection Law, in which many delegates agreed that the NA should give the inspection agency more independence and rights to better its operation.