Discussions on the Long Thanh International Airport project in southern Dong Nai province was the highlight of the ongoing 35th session of the National Assembly Standing Committee on February 26.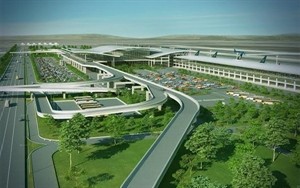 Long Thanh International Airport design
In its report delivered at the event, the NA's Economic Committee said such an airport is necessary to meet the growing demand of aviation transport and socio-economic development. Long Thanh holds a convenient position with an upgraded transport system in the region, including the recently-opened Ho Chi Minh City-Long Thanh-Dau Giay Expressway.
However, the committee stressed the need to carefully consider the cited 5,000 hectares of land required for the project as nearly half the area (2,250 hectares) is not related directly to the airport.
Many deputies agreed on the committee's opinions, calling for the clarification of several project contents.
Chairman of the NA's Finance and Budget Committee Phung Quoc Hien proposed reconsidering the scale of the project and calculating passenger estimates.
At present, total investment for the initial phase is estimated at US$5.23 billion, down US$2.6 billion from the Government's previous forecast. Of the investment, US$1.39 billion will be sourced from official development assistance (ODA), US$578.3 million from the State budget and the remaining US$3.26 billion from non-State sectors.
Many called for more accurate investment estimates for all three phases of the project to avoid unexpected costs during the construction process and target feasible capital mobilisation methods.
At the meeting, deputies also debated the socio-economic effects of the project and issues related to land clearance and relocation of local residents.